Les autres marques:

AB Sound speakers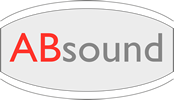 AB Sound offered speakers and components from imports. Here are only presented speakers, do not hesitate to consult this link to discover all loudspeaker accessories (corners, handles, railing, screws and bolt, castors) offered by AB Sound.
Catalog AB Sound
Product
Info
TW6403
Mid-Bass
Ferrite
€30 TTC
In stock
Cone driver 7.5" / 19cm 8 ohm
70W 140WMax 40÷5000Hz 91dB voice coil Ø1"
Product
Info
TW1041
Woofer
Ferrite
€46 TTC
In stock
Cone driver 10" / 25cm 8 ohm
100W 200WMax 35÷3000Hz 92dB voice coil Ø1.42"
Product
Info
TD2006
High
Ferrite
€33.6 TTC
Available for purchase
Dome tweeter 8 ohm
70W 140WMax 3600÷20000Hz 90dB voice coil Ø0.75"