18 Sound 15W700 speaker, 4 ohm, 15 inch
Brand

Eighteen Sound

Model

15W700

SKU

15W700-4

Manufacturer code

ALT150700WF04FA - 0221544210

Product type

Cone driver

Sales packaging

Sold by piece
Brand


Eighteen Sound

Model


15W700

TLHP code


15W700-4

Manufacturer code


ALT150700WF04FA - 0221544210

Product type

Cone driver

Sales packaging

Sold by Piece
The 15W700 low frequency transducer meets the specific market demand for a loudspeaker which combines good linearity and efficiency with high power handling capabilities, containing a 75 mm Ø aluminum voice coil.

Although primarily intended for use in tuned reflex enclosures, the versatile characteristics of the 15W700 render it suitable for a wide variety of enclosure types, particularly as a subwoofer or as a LF driver in 2 or 3-way systems. When used in a 2-way system, we recommend a 1.4" or 2" exit compression driver in order to obtain the best sound quality. The deep profile curvilinear paper cone has been made using a special high strength wood pulp and designed to achieve the best possible linearity within its intended frequency range and to control bell-mode resonances around the cone circumference.
The cone is carried by an unusually deep profile, double half-roll suspension formed of a linen-like material which is more resistant to aging and fatigue than the traditional cotton-based materials used in conventional surrounds.
The 75 mm Ø aluminum voice coil employs the Interleaved Sandwich Voice coil (ISV) technology, in which a high strength fiberglas former carries windings on both the outer and inner surfaces to achieve a mass balanced coil. This results in an extremely linear motor assembly with a reduced tendency for eccentric behavior when driven hard.
The magnetic structure has been optimized using our in-house FEA CAD resource that has maximized the flux density in the voice coil gap. Excellent heat dissipation has also been achieved by incorporating air channels between the basket and the magnetic top plate. Due to the increase in use of audio systems at outdoor events, the ability of the 15W700 to perform in adverse weather conditions or in areas of high humidity is a great advantage. This has been achieved using exclusive treatments which enable the cone and the magnetic plate to resist corrosion and render the cone water repellent at the same time.

99 dB SPL 1W / 1m average sensitivity
75 mm (3 in) Interleaved Sandwich Voice coil (ISV)
450 W AES power handling
Weather protected cone and plates for outdoor usage
Excellent transient response
Improved heat dissipation via unique basket design
Ideal for compact reflex subwoofers and multiway systems
General

Product type

Cone driver

Brand

Eighteen Sound

Reference

15W700

Product code

ALT150700WF04FA - 0221544210

Informations

Nominal impedance

4 ohm

Dimensional category

15 inch

Frequency coverage type

Sub, Low, Midbass

Manufacturer sensitivity

97 dB

Calculated sensitivity

98.16 dB

Nominal power handling

450 W

Max power handling

700 W

Bandwidth

38÷5000 Hz

Sd

850 cm²

Mms

86 gr

Cms

178 µm/N

Le

0.54 mH

Re

2.8 ohm

BL

14.7 T.m

Fs

41 Hz

Qes

0.29

Qms

4.03

Qts

0.27

Vas

180 L

Xmax

±6.5 mm

EBP

141 Hz

Zmin

3.7 ohm

Fs / Qts

152 Hz

Vas * Qts²

13.13 L

Calculated efficiency

4.11 %

Weight

~8.5 kg

Dimensions

Voice coil diameter

3 inch

Outside diameter

387 mm

Baffle cutout diameter

353 mm

Depth

168 mm

Front thickness

19 mm

Depth after front

149 mm

Shape & Materials

Front chape

Cylindrical

Magnet type

Ferrite
Question about Eighteen Sound 15W700-4
Ask a new question!
This system is only available for technical questions. For questions of prices, availability of products and deadline thank you to send your request by the contact page.
Eighteen Sound 15W700-4, Range, version, replacement...
Repair Eighteen Sound 15W700-4
Informations Eighteen Sound 15W700-4
The 15W700 low frequency transducer meets the specific market demand for a loudspeaker which combines good linearity and efficiency with high power handling capabilities, containing a 75 mm Ø aluminum voice coil.

Although primarily intended for use in tuned reflex enclosures, the versatile characteristics of the 15W700 render it suitable for a wide variety of enclosure types, particularly as a subwoofer or as a LF driver in 2 or 3-way systems. When used in a 2-way system, we recommend a 1.4" or 2" exit compression driver in order to obtain the best sound quality. The deep profile curvilinear paper cone has been made using a special high strength wood pulp and designed to achieve the best possible linearity within its intended frequency range and to control bell-mode resonances around the cone circumference.
The cone is carried by an unusually deep profile, double half-roll suspension formed of a linen-like material which is more resistant to aging and fatigue than the traditional cotton-based materials used in conventional surrounds.
The 75 mm Ø aluminum voice coil employs the Interleaved Sandwich Voice coil (ISV) technology, in which a high strength fiberglas former carries windings on both the outer and inner surfaces to achieve a mass balanced coil. This results in an extremely linear motor assembly with a reduced tendency for eccentric behavior when driven hard.
The magnetic structure has been optimized using our in-house FEA CAD resource that has maximized the flux density in the voice coil gap. Excellent heat dissipation has also been achieved by incorporating air channels between the basket and the magnetic top plate. Due to the increase in use of audio systems at outdoor events, the ability of the 15W700 to perform in adverse weather conditions or in areas of high humidity is a great advantage. This has been achieved using exclusive treatments which enable the cone and the magnetic plate to resist corrosion and render the cone water repellent at the same time.

99 dB SPL 1W / 1m average sensitivity
75 mm (3 in) Interleaved Sandwich Voice coil (ISV)
450 W AES power handling
Weather protected cone and plates for outdoor usage
Excellent transient response
Improved heat dissipation via unique basket design
Ideal for compact reflex subwoofers and multiway systems

Manufacturer
Eighteen Sound
Name
18 Sound 15W700 speaker, 4 ohm, 15 inch
SKU
15W700-4
Seller

TLHP




Price

€

230.40

192 Out of stock
Buy 18 Sound 15W700 speaker, 4 ohm, 15 inch

All or a part of the characteristics displayed on this page are provided by the manufacturer, it is possible that some pieces of information are unavailable or wrong. In addition, the manufacturer may need to change the product specifications without notice at any time in order to improve the product, or to adapt his offer to the manufacturing and supply constraints.. We suggest you to contact us if you need further information, if you observe a mistake or if you wish to have confirmation about information.
Measures/Schemes Eighteen Sound 15W700-4
SPL measure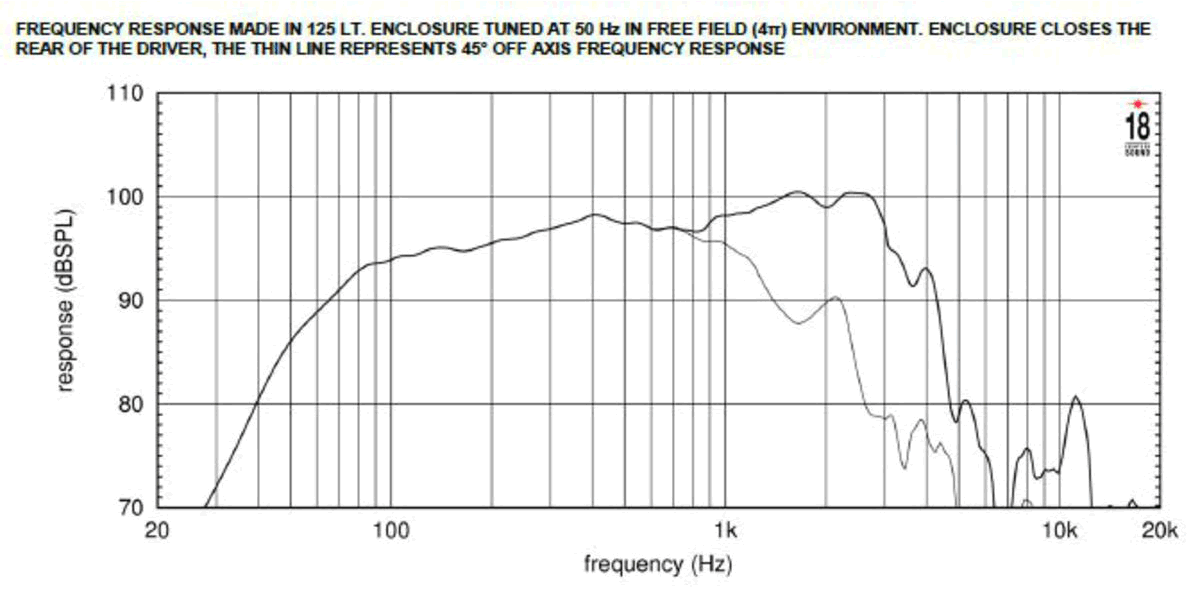 Impedance measure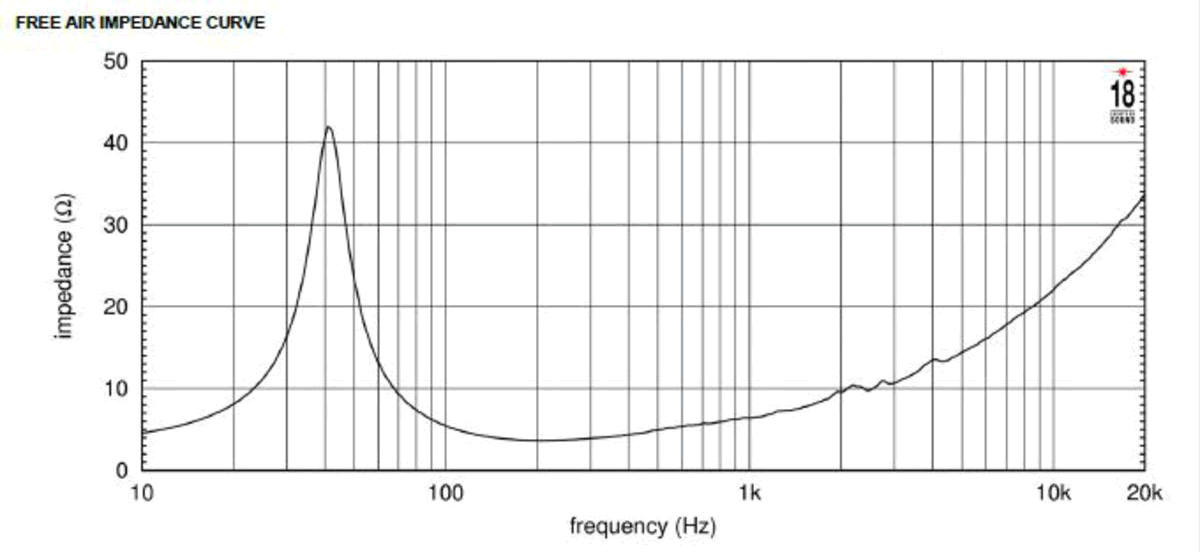 Dimensions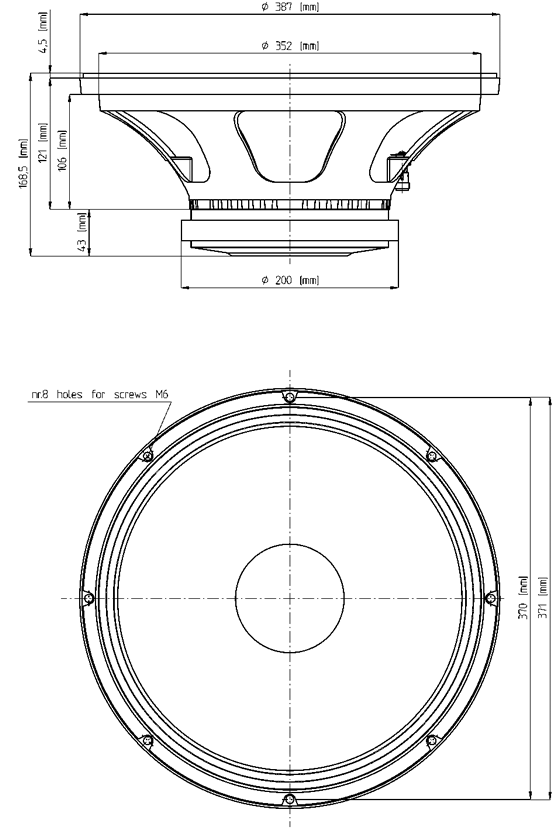 Garantie
This product is under manufacturer's warranty. This warranty protect you for the manufacturing defaults. The warranty does not protect for abnormal use of the product.