Subwoofer kit TLHP H221 with cabinet kit and speaker
Brand

TLHP

Model

H221

SKU

K-H221

Product type

Subwoofer kit
Brand


TLHP

Model


H221

TLHP code


K-H221

Product type

Subwoofer kit
Bass Horn Flat Pack TLHP H221, with 21 inch speaker Celestion NTR21-5010JD - 8 ohm, 1600 watts AES, usable from 40 to 200 Hz, designed for powerfull outdoor Sound Systems.

The kit TLHP H221 has been designed in collaboration with Celestion in order to valorize the UK professional speaker manufacturing know-how. TLHP is the official partner of Celestion for DIY sound systems solutions. The H221 can be placed in standing or lying configuration following the need, this kit is ideal in stack of two or four units associated with with one or two TLHP TT-112 to cover above 200 Hz. Basicaly the project is with 2 speaker in the same box, but for transport reason we have choosen to offer a box with one speaker, and you can associated two, three, four, six or height kit, as you want depending on your needs.

Specifications :
- Manufacturer and model of the speaker : Celestion NTR21-5010JD - 8 ohm
- Enclosure type : Bass horn
- Distance range: 5 to 45 meters depending on the number of box
- Wood type : Birch plywood, BB/BB quality, 18 mm thick
- Speaker access : by hatch
- External dimensions of the kit : W:626mm, H:950mm, D:936mm
- Total weight o the kit including the speaker : ~87 kg
- Bandwidth : 30 - 700 Hz
- Usable frequency band :
- by unit : 40 - 200 Hz
- by stack of 2 units : 35 - 200 Hz
- by stack of 4 units : 30 - 200 Hz
- Power handling : 1600 watts AES
- Sensitivity :
- by unit : > 105 dB/1w/1m
- by stack of 2 units : > 108 dB/2w/1m
- by stack of 4 units : > 111 dB/4w/1m
- SPL Max at one meter :
- by unit : ~139 dB
- by stack of 2 units : ~142 dB
- by stack of 4 units : ~145 dB

Complementary products :
- TLHP TT-112 / TT-HF
- HPA A4000
- HPA A5000
- RAM Audio S4000
- Behringer DCX2496

Option available :
- Front black steel grill (see GR12-H221), be careful you need two grills for one kit H221
General

Product type

Subwoofer kit

Brand

TLHP

Reference

H221

Informations

DIY level

Expert

Kit origin

Celestion

Weight

~95 kg

Shape & Materials

Wood type

Birch plywood, BB/BB quality

Edges type of panels

Straight edges
Question about TLHP K-H221
Ask a new question!
This system is only available for technical questions. For questions of prices, availability of products and deadline thank you to send your request by the contact page.
TLHP K-H221, Range, version, replacement...
With TLHP K-H221, customers has also bought
Informations TLHP K-H221
Bass Horn Flat Pack TLHP H221, with 21 inch speaker Celestion NTR21-5010JD - 8 ohm, 1600 watts AES, usable from 40 to 200 Hz, designed for powerfull outdoor Sound Systems.

The kit TLHP H221 has been designed in collaboration with Celestion in order to valorize the UK professional speaker manufacturing know-how. TLHP is the official partner of Celestion for DIY sound systems solutions. The H221 can be placed in standing or lying configuration following the need, this kit is ideal in stack of two or four units associated with with one or two TLHP TT-112 to cover above 200 Hz. Basicaly the project is with 2 speaker in the same box, but for transport reason we have choosen to offer a box with one speaker, and you can associated two, three, four, six or height kit, as you want depending on your needs.

Specifications :
- Manufacturer and model of the speaker : Celestion NTR21-5010JD - 8 ohm
- Enclosure type : Bass horn
- Distance range: 5 to 45 meters depending on the number of box
- Wood type : Birch plywood, BB/BB quality, 18 mm thick
- Speaker access : by hatch
- External dimensions of the kit : W:626mm, H:950mm, D:936mm
- Total weight o the kit including the speaker : ~87 kg
- Bandwidth : 30 - 700 Hz
- Usable frequency band :
- by unit : 40 - 200 Hz
- by stack of 2 units : 35 - 200 Hz
- by stack of 4 units : 30 - 200 Hz
- Power handling : 1600 watts AES
- Sensitivity :
- by unit : > 105 dB/1w/1m
- by stack of 2 units : > 108 dB/2w/1m
- by stack of 4 units : > 111 dB/4w/1m
- SPL Max at one meter :
- by unit : ~139 dB
- by stack of 2 units : ~142 dB
- by stack of 4 units : ~145 dB

Complementary products :
- TLHP TT-112 / TT-HF
- HPA A4000
- HPA A5000
- RAM Audio S4000
- Behringer DCX2496

Option available :
- Front black steel grill (see GR12-H221), be careful you need two grills for one kit H221


All or a part of the characteristics displayed on this page are provided by the manufacturer, it is possible that some pieces of information are unavailable or wrong. In addition, the manufacturer may need to change the product specifications without notice at any time in order to improve the product, or to adapt his offer to the manufacturing and supply constraints.. We suggest you to contact us if you need further information, if you observe a mistake or if you wish to have confirmation about information.
Measures/Schemes TLHP K-H221
SPL measure *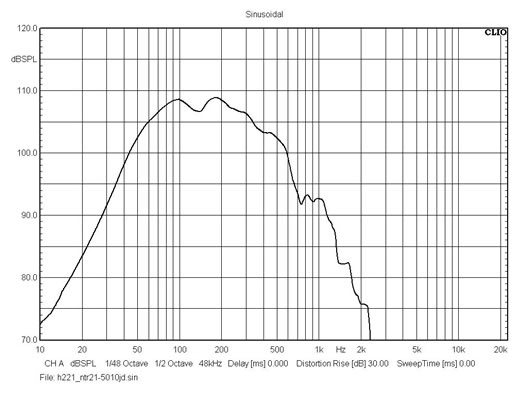 * Mesure à 1 mètre dans l'axe
SPL measure *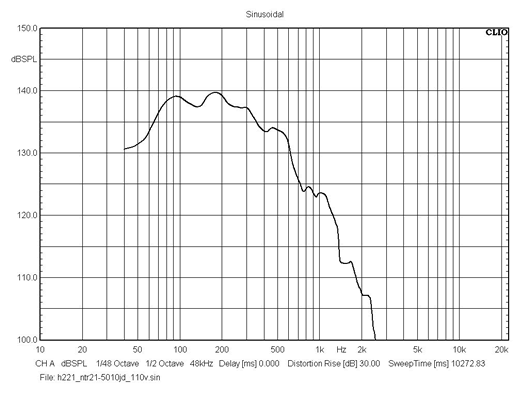 * Mesure à 1 mètre dans l'axe
Dimensions