Speaker 18 Sound 15NLW9300, 8 ohm, 15 inch
The 15NLW9300 is a low frequency loudspeaker which sets a new industry standard in 15" (380mm) neodymium 4" voice coil high performance transducers. The design has evolved from an extensive R&D program carried out at Eighteen Sound, providing clean, undistorted LF reproduction at very high SPL without damages.

The 15NLW9300 is intended mainly as woofer for studio monitoring or multiway systems applications in extremely compact vented enclosures (65-130lit). This make it ideal for touring application including indoor or outdoor concert reinforcement systems. Thanks to improved speaker design specifications and use of high grade materials it is the ideal transducer for touring applications or fixed installations.
The neo magnet assembly assures high flux concentration, low power compression and excellent heat exchange, resulting in high levels of force factor and power handling with an optimum power to weight ratio.
The heatsink has been specifically studied using F.E.A. simulators and the necessary heat transfer to the dissipative structure has been improved. The direct contact between the heatsink and the basket represents a fundamental improvement in heat dissipation, increasing power handling capabilities and lowering the power compression figure.
The 15NLW9300 features a dedicated exclusive carbon fibre reinforced straight ribbed cone, with a specific pulp formulation containing damping fibres. The membrane is then treated in-house with a proprietary resin mix in order to increase the cone bend performances, up to 6 times better if compared with traditional celluloses pulp, twice than glass fibre added pulps. The results is a very linear piston action across the entire working range avoiding the destroying breaking modes. The cone treatment make the 15NLW9300 suitable for outdoor application.
The suspension system has been designed to provide symmetric large signal behaviour throughout the whole working range, providing low harmonic distortion at different excitation levels.
The performances are further improved by the proprietary Double Demodulating Rings technology (DDR), designed to reduce dramatically the intermodulation and harmonic distortion whilst improving the transient response. The state-of-the-art 100mm (4in) Interleaved Sandwich Voice coil (ISV) provides high levels of thermal stability and durability.

97 dB SPL 1W / 1m average sensitivity
100 mm (4 in) Interleaved Sandwich Voice coil (ISV)
800W AES power handling
External neodymium magnet assembly
Double Demodulating Rings (DDR) for lower distortion and improved heat dissipation
Weather protected cone and plates for outdoor usage
Improved dissipation via integrated heatsink
Ultra wide application range
Recommended for multiway systems and studio monitoring applications

15 inch / 38 cm
8 ohm

Eighteen Sound

Cone driver

8 ohm

7.6

kg
Use Eighteen Sound 15NLW9300-8
This product list is manually managed by the TLHP team based on its experience and product knowledge.
Informations Eighteen Sound 15NLW9300-8
The 15NLW9300 is a low frequency loudspeaker which sets a new industry standard in 15" (380mm) neodymium 4" voice coil high performance transducers. The design has evolved from an extensive R&D program carried out at Eighteen Sound, providing clean, undistorted LF reproduction at very high SPL without damages.

The 15NLW9300 is intended mainly as woofer for studio monitoring or multiway systems applications in extremely compact vented enclosures (65-130lit). This make it ideal for touring application including indoor or outdoor concert reinforcement systems. Thanks to improved speaker design specifications and use of high grade materials it is the ideal transducer for touring applications or fixed installations.
The neo magnet assembly assures high flux concentration, low power compression and excellent heat exchange, resulting in high levels of force factor and power handling with an optimum power to weight ratio.
The heatsink has been specifically studied using F.E.A. simulators and the necessary heat transfer to the dissipative structure has been improved. The direct contact between the heatsink and the basket represents a fundamental improvement in heat dissipation, increasing power handling capabilities and lowering the power compression figure.
The 15NLW9300 features a dedicated exclusive carbon fibre reinforced straight ribbed cone, with a specific pulp formulation containing damping fibres. The membrane is then treated in-house with a proprietary resin mix in order to increase the cone bend performances, up to 6 times better if compared with traditional celluloses pulp, twice than glass fibre added pulps. The results is a very linear piston action across the entire working range avoiding the destroying breaking modes. The cone treatment make the 15NLW9300 suitable for outdoor application.
The suspension system has been designed to provide symmetric large signal behaviour throughout the whole working range, providing low harmonic distortion at different excitation levels.
The performances are further improved by the proprietary Double Demodulating Rings technology (DDR), designed to reduce dramatically the intermodulation and harmonic distortion whilst improving the transient response. The state-of-the-art 100mm (4in) Interleaved Sandwich Voice coil (ISV) provides high levels of thermal stability and durability.

97 dB SPL 1W / 1m average sensitivity
100 mm (4 in) Interleaved Sandwich Voice coil (ISV)
800W AES power handling
External neodymium magnet assembly
Double Demodulating Rings (DDR) for lower distortion and improved heat dissipation
Weather protected cone and plates for outdoor usage
Improved dissipation via integrated heatsink
Ultra wide application range
Recommended for multiway systems and studio monitoring applications

Product type
Cone driver
Link manufacturer website
Eighteen Sound
Datasheet
Internal link Eighteen Sound
Transport weight
7.6 kg
Transport volume weight
8.76 kg

All or a part of the characteristics displayed on this page are provided by the manufacturer, it is possible that some pieces of information are unavailable or wrong. In addition, the manufacturer may need to change the product specifications without notice at any time in order to improve the product, or to adapt his offer to the manufacturing and supply constraints.. We suggest you to contact us if you need further information, if you observe a mistake or if you wish to have confirmation about information.
Measures/Schemes Eighteen Sound 15NLW9300-8
SPL vs Frequency Measurement *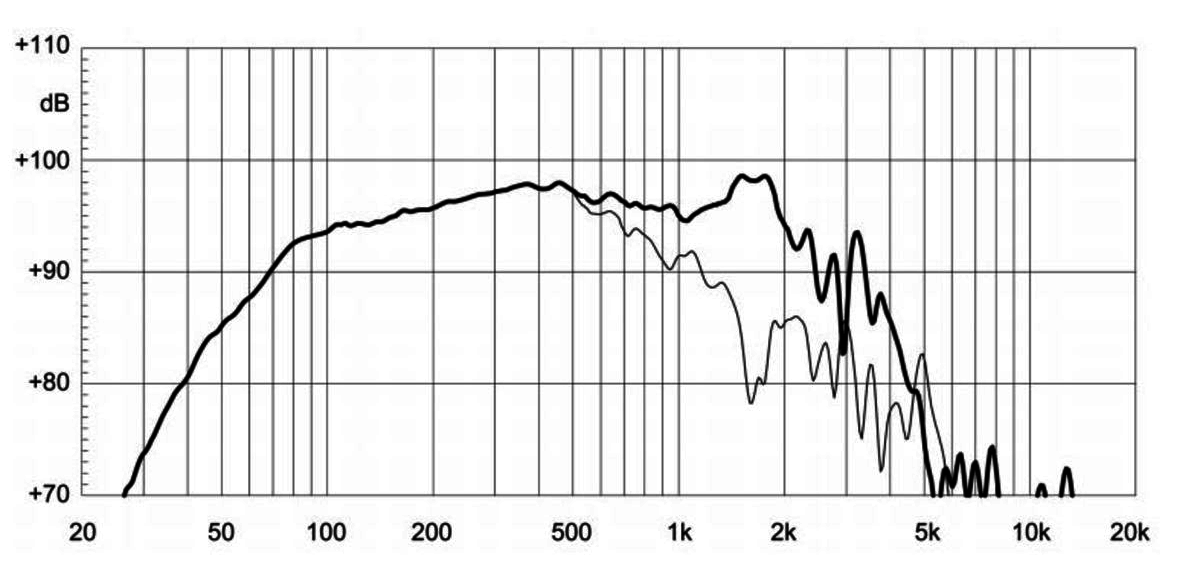 * Frequency response curve of 15NLW9300 made on 125 lit. enclosure tuned at 50hz in free field (4π) environment. Enclosure closes the rear of the driver. The thin line represents 45 deg. off axis frequency response.
SPL vs Impedance Measurement *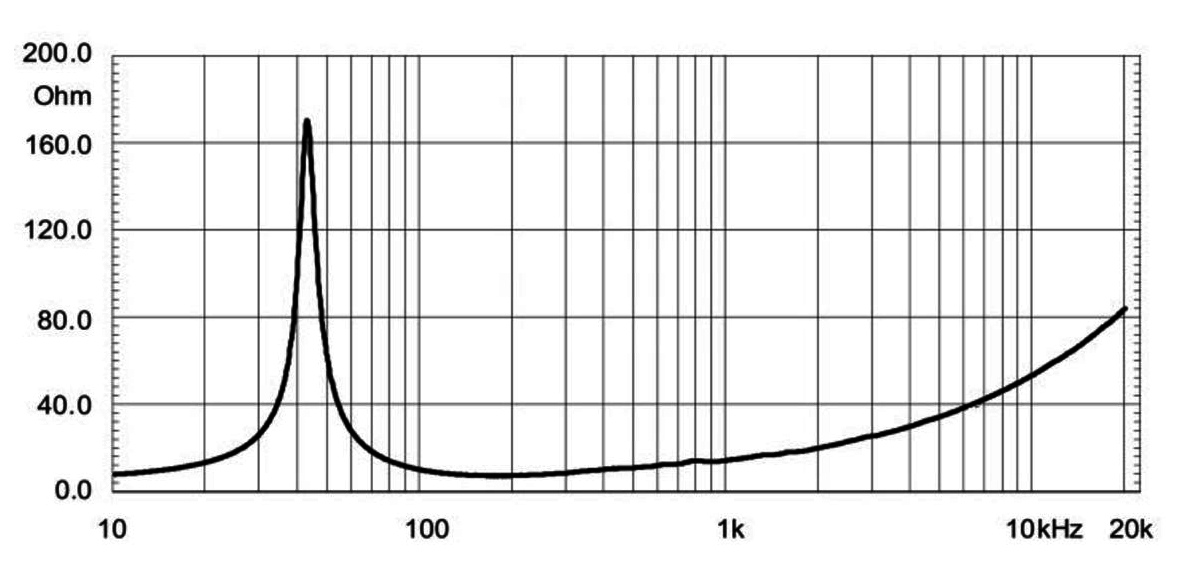 * Free air impedance magnitude curve.
Dimensions