Speaker Atohm LD230CRA08M, 8 ohm, 9.2 inch
Brand

Atohm

Model

LD230CRA08M

SKU

LD230CRA08M-8

Product type

Cone driver

Sales packaging

Sold by Piece
Brand


Atohm

Model


LD230CRA08M

TLHP code


LD230CRA08M-8

Product type

Cone driver

Sales packaging

Sold by Piece
New generation model replacing the LD230CR08M: New complete mobile unit, performance up.

This latest generation "CRA" of LD230 is the result of all the experience and expertise acquired by our laboratory during the development and production of the previous LD210 and LD230 versions. Endowed with the latest refinements, these new 23 cm units push back the limits of what can be expected from a loudspeaker of this diameter: incredible performances, both in active subwoofer application and in serious very high-end speakers.

LD230CRA, an ATOHM concentrate:
The LDS profile suspension and the "progressive" geometry spider have been studied and simulated (finite elements / nonlinear domain) to ensure a very wide range of linear excursion.
The spider is made of a material chosen for its very low creep rate and has a constant coefficient of stiffness over the nominal excursion range.
The suspension, meanwhile, has not only a quasi linearity on the maximum excursion range but it keeps a perfect geometry under the strongest
constraints (small volume closed charge or internal pressure at the tuning frequency of a bass reflex charge, for example).
In order to limit the "dynamic sliding", all these two parts behave in a completely symmetrical manner.
The membrane, made of a specific alloy, has also been optimized to ensure perfect rigidity over a very wide bandwidth and on the highest constraints.
The imposing engine (diameter 156mm) benefits from our FWI (Force Without Inductance) technology.
Expertly dimensioned, the pole pieces and the copper ring allow the reduction and linearization of the inductance value.
Depending on the version, the coils are made of copper wire or CCAW (Copper Clad Aluminum Wire).
Here again, the whole is optimized to offer a linear and symmetrical force factor over the widest range of power and excursion possible.
In order to drastically reduce operating noise at high amplitudes and to improve cooling, the salad bowl (injected aluminum) and the membrane are
provided with large ventilation holes.

This exceptional unit is available in 3 versions:
- The LD230CRA04 is intended to be used singly in a bass-reflex or closed load.
- The LD230CRA08 version is rather dedicated to bass-reflex applications.
- The LD230CRA08M version is specifically optimized for closed low volume loads. In these two versions, depending on the intended application and according to the capabilities of amplification, 2 to 3 units can be configured in parallel.

Cylindrical

Cone driver

Atohm

9 inch

Cylindrical

Ferrite

Aluminium

8 ohm

300

W

600

W

82

dB

2 inch

CCAW (Copper-clad aluminium wire)
233.6

mm

194

mm

105

mm

8.5

mm

24

Hz

6.6

ohm

0.36

6.3

0.34

23.4

L

285

µm/N

12

mm
... Display more
Atohm LD230CRA08M-8, Range, version, replacement...
This product list is manually managed by the TLHP team based on its experience and product knowledge.
Use Atohm LD230CRA08M-8
This product list is manually managed by the TLHP team based on its experience and product knowledge.
Informations Atohm LD230CRA08M-8
New generation model replacing the LD230CR08M: New complete mobile unit, performance up.

This latest generation "CRA" of LD230 is the result of all the experience and expertise acquired by our laboratory during the development and production of the previous LD210 and LD230 versions. Endowed with the latest refinements, these new 23 cm units push back the limits of what can be expected from a loudspeaker of this diameter: incredible performances, both in active subwoofer application and in serious very high-end speakers.

LD230CRA, an ATOHM concentrate:
The LDS profile suspension and the "progressive" geometry spider have been studied and simulated (finite elements / nonlinear domain) to ensure a very wide range of linear excursion.
The spider is made of a material chosen for its very low creep rate and has a constant coefficient of stiffness over the nominal excursion range.
The suspension, meanwhile, has not only a quasi linearity on the maximum excursion range but it keeps a perfect geometry under the strongest
constraints (small volume closed charge or internal pressure at the tuning frequency of a bass reflex charge, for example).
In order to limit the "dynamic sliding", all these two parts behave in a completely symmetrical manner.
The membrane, made of a specific alloy, has also been optimized to ensure perfect rigidity over a very wide bandwidth and on the highest constraints.
The imposing engine (diameter 156mm) benefits from our FWI (Force Without Inductance) technology.
Expertly dimensioned, the pole pieces and the copper ring allow the reduction and linearization of the inductance value.
Depending on the version, the coils are made of copper wire or CCAW (Copper Clad Aluminum Wire).
Here again, the whole is optimized to offer a linear and symmetrical force factor over the widest range of power and excursion possible.
In order to drastically reduce operating noise at high amplitudes and to improve cooling, the salad bowl (injected aluminum) and the membrane are
provided with large ventilation holes.

This exceptional unit is available in 3 versions:
- The LD230CRA04 is intended to be used singly in a bass-reflex or closed load.
- The LD230CRA08 version is rather dedicated to bass-reflex applications.
- The LD230CRA08M version is specifically optimized for closed low volume loads. In these two versions, depending on the intended application and according to the capabilities of amplification, 2 to 3 units can be configured in parallel.

Manufacturer
Atohm
Name
Speaker Atohm LD230CRA08M, 8 ohm, 9.2 inch
SKU
LD230CRA08M-8
Seller

TLHP




Price

€

385.08

320.9 Out of stock
Buy Speaker Atohm LD230CRA08M, 8 ohm, 9.2 inch
Product type
Cone driver
Transport weight
5.8 kg
Transport volume weight
2.76 kg

All or a part of the characteristics displayed on this page are provided by the manufacturer, it is possible that some pieces of information are unavailable or wrong. In addition, the manufacturer may need to change the product specifications without notice at any time in order to improve the product, or to adapt his offer to the manufacturing and supply constraints.. We suggest you to contact us if you need further information, if you observe a mistake or if you wish to have confirmation about information.
Supply Atohm LD230CRA08M-8
Measures/Schemes Atohm LD230CRA08M-8
SPL & Impedance vs Frequency Measurement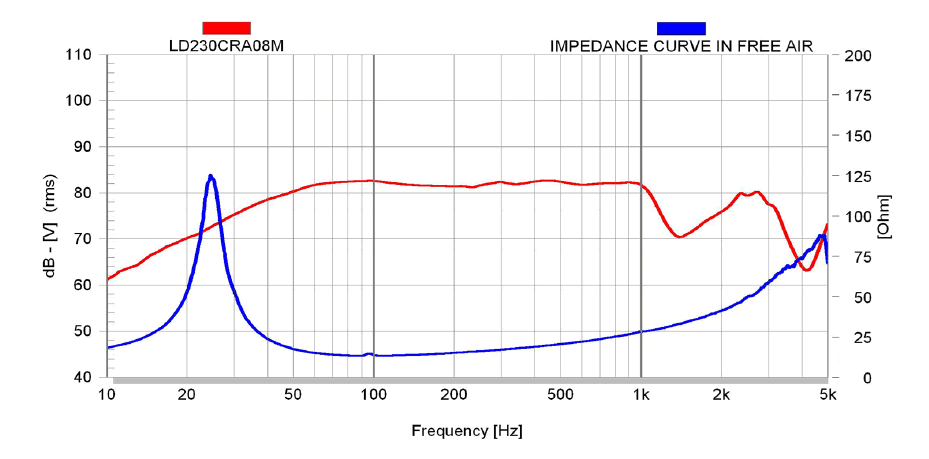 Dimensions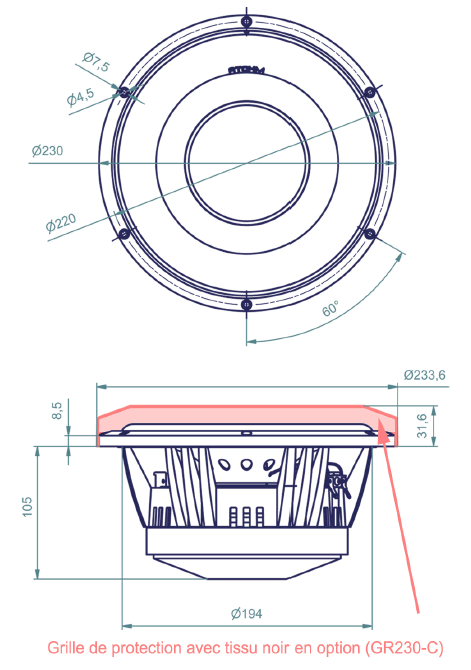 Garantie
This product is under manufacturer's warranty. This warranty protect you for the manufacturing defaults. The warranty does not protect for abnormal use of the product.