Neutrik NL4MPXX, 4 pole male Speakon chassis, silver contacts, D-shape
Brand

Neutrik

SKU

NL4MPXX

Product type

Speakon socket

Sales packaging

Sold by piece
Brand


Neutrik

TLHP code


NL4MPXX

Product type

Speakon socket

Sales packaging

Sold by Piece
New version of the NL4MP which is fully compliant to the device standard IEC 62368-1, due to its component certification according to IEC 61984.

4 pole chassis connector, black D-size flange, countersunk thru holes, 3/16" flat tabs.

The speakON panel mount connectors are the standard chassis connectors for loudspeaker / amplifier interconnections. They feature a unique metal locking system, making contact only once fully locked. The speakON receptacles are robust, versatile and easy to terminate.

Features & Benefits
IEC 61984 certified > IEC 62368-1 compliant
Precise keyway for secure mating
Metal insert in locking area
Glass reinforced V-0 materials make it extremely robust and dependable
Accurate twist lock latching system
Airtight design - optimized for speaker applications

Technical Information

Product
Title NL4MPXX
Gender Male

Electrical
Contact resistance ≤ 2 mΩ
Dielectric strength 4 kVdc (peak)
Insulation resistance > 1 GΩ (after dampheat)
Rated current per contact 25 A rms continuous (audio rating significantly higher, depending on signal)
Rated voltage 250 V ac
Attention speakON is NOT to be used as an AC mains or power supply connector!

Mechanical
Lifetime > 5000 mating cycles
Termination 3/16" flat tabs (e.g. NLFASTON)
Locking device Quick Lock
Chassis shape D
Layout standard hole position, thru holes

Material
Contact plating Ag
Locking element Stainless Steel
Shell Polyamide (PA 6.6)
Contacts Copper Alloy

Environmental
Flammability UL94 V-0
Temperature range -30 °C to +80 °C
General

Product type

Speakon socket

Brand

Neutrik

Weight

~10 gr
Question about Neutrik NL4MPXX
Ask a new question!
This system is only available for technical questions. For questions of prices, availability of products and deadline thank you to send your request by the contact page.
Neutrik NL4MPXX, Range, version, replacement...
With Neutrik NL4MPXX, customers has also bought
Informations Neutrik NL4MPXX
New version of the NL4MP which is fully compliant to the device standard IEC 62368-1, due to its component certification according to IEC 61984.

4 pole chassis connector, black D-size flange, countersunk thru holes, 3/16" flat tabs.

The speakON panel mount connectors are the standard chassis connectors for loudspeaker / amplifier interconnections. They feature a unique metal locking system, making contact only once fully locked. The speakON receptacles are robust, versatile and easy to terminate.

Features & Benefits
IEC 61984 certified > IEC 62368-1 compliant
Precise keyway for secure mating
Metal insert in locking area
Glass reinforced V-0 materials make it extremely robust and dependable
Accurate twist lock latching system
Airtight design - optimized for speaker applications

Technical Information

Product
Title NL4MPXX
Gender Male

Electrical
Contact resistance ≤ 2 mΩ
Dielectric strength 4 kVdc (peak)
Insulation resistance > 1 GΩ (after dampheat)
Rated current per contact 25 A rms continuous (audio rating significantly higher, depending on signal)
Rated voltage 250 V ac
Attention speakON is NOT to be used as an AC mains or power supply connector!

Mechanical
Lifetime > 5000 mating cycles
Termination 3/16" flat tabs (e.g. NLFASTON)
Locking device Quick Lock
Chassis shape D
Layout standard hole position, thru holes

Material
Contact plating Ag
Locking element Stainless Steel
Shell Polyamide (PA 6.6)
Contacts Copper Alloy

Environmental
Flammability UL94 V-0
Temperature range -30 °C to +80 °C

Manufacturer
Neutrik
Name
Neutrik NL4MPXX, 4 pole male Speakon chassis, silver contacts, D-shape
SKU
NL4MPXX
Seller

TLHP




Price

€

2.46

2.05 Out of stock
Buy Neutrik NL4MPXX, 4 pole male Speakon chassis, silver contacts, D-shape

All or a part of the characteristics displayed on this page are provided by the manufacturer, it is possible that some pieces of information are unavailable or wrong. In addition, the manufacturer may need to change the product specifications without notice at any time in order to improve the product, or to adapt his offer to the manufacturing and supply constraints.. We suggest you to contact us if you need further information, if you observe a mistake or if you wish to have confirmation about information.
Dimensions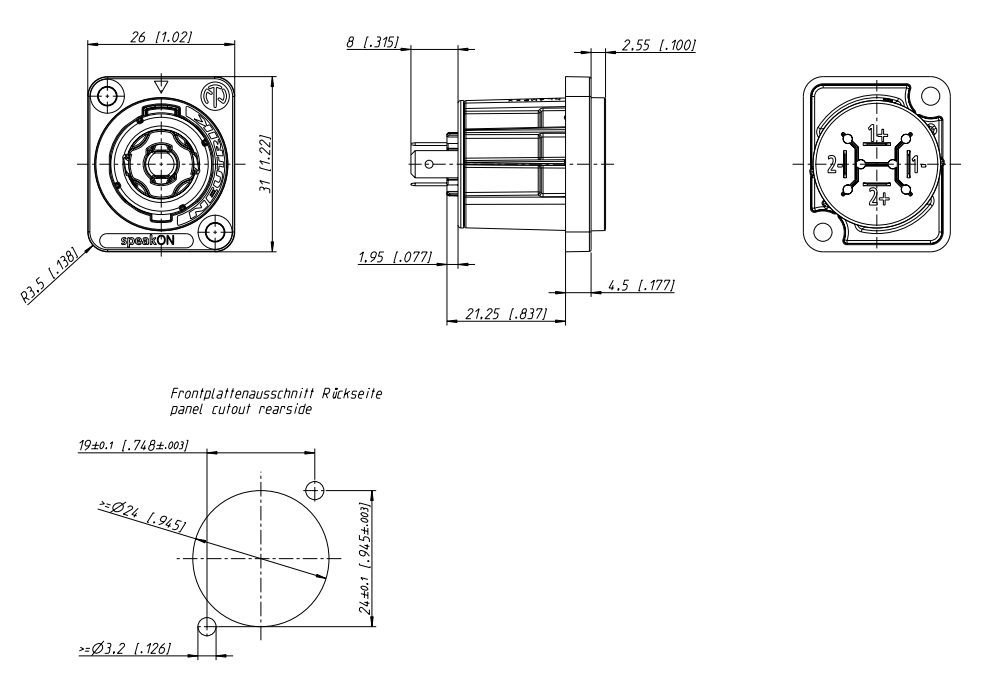 Garantie
This product is under manufacturer's warranty. This warranty protect you for the manufacturing defaults. The warranty does not protect for abnormal use of the product.