Speaker ScanSpeak 22W/4534G00, 4 ohm, 8.5 inch
Brand

ScanSpeak

Model

22W/4534G00

SKU

22W/4534G00-4

Product type

Cone driver

Sales packaging

Sold by Piece
Brand


ScanSpeak

Model


22W/4534G00

TLHP code


22W/4534G00-4

Product type

Cone driver

Sales packaging

Sold by Piece

30 days to change your mind !
learn more
High Output 92,5dB @ 2,83V
Coated NRSC Fibre Glass Cone
Low Damping SBR Rubber Surround
Low Resonance Freq. 30Hz
Magnet System w. Alu Ring
Die cast Alu Chassis vented below spider

The Discovery series offer traditional design, superior sound, a solid construction, and a wide range of variants. Combining these elements - plus a wealth of technical features and finesses - it gives our customers the possibility of acquiring a tailor-made Scan-Speak solution with very good performance at a reasonable low price point!

T-S Parameters
Resonance frequency [fs] 30 Hz
Mechanical Q factor [Qms] 3.70
Electrical Q factor [Qes] 0.37
Total Q factor [Qts] 0.34
Force factor [Bl] 6 Tm
Mechanical resistance [Rms] 1.19 kg/s
Moving mass [Mms] 23.7 g
Suspension compliance [Cms] 1.23 mm/N
Effective diaph. diameter [D] 173 mm
Effective piston area [Sd] 235 cm²
Equivalent volume [Vas] 95.0 l
Sensitivity (2.83V/1m) 92.4 dB
Ratio Bl/?Re 3.46 N/?W
Ratio fs/Qts 88 Hz

Electrical Data
Nominal impedance [Zn] 4 ?
Minimum impedance [Zmin] 3.7 ?
Maximum impedance [Zo] 33.0 ?
DC resistance [Re] 3 ?
Voice coil inductance [Le] 0.33 mH

Power Handling
100h RMS noise test (IEC 17.1) 70 W
Long-term max power (IEC 17.3) 120 W

Voice Coil and Magnet Data
Voice coil diameter 38 mm
Voice coil height 17.3 mm
Voice coil layers 2
Height of gap 6 mm
Linear excursion ± 5.7 mm
Max mech. excursion ± 12 mm
Unit weight 2.1 kg

Electrical data:
Resistance [Re'] 3.67 ?
Free inductance [Leb] 0.0886 mH
Bound inductance [Le] 0.652 mH
Semi-inductance [Ke] 0.0174 SH
Shunt resistance [Rss] 2289 ?

Mechanical Data
Force Factor [Bl] 4.98 Tm
Moving mass [Mms] 18.4 g
Compliance [Cms] 0.966 mm/N
Mechanical resistance [Rms] 0.062 kg/s
Admittance [Ams] 0.116 mm/N

Woofer - Cone driver
8.5 inch 22 cm
Ferrite
Cylindrical
4 ohm

ScanSpeak

Cone driver

4 ohm

1.5"

92.4

dB

70

W

140

W

30

Hz

2.1

kg
Use ScanSpeak 22W/4534G00-4
This product list is manually managed by the TLHP team based on its experience and product knowledge.
With ScanSpeak 22W/4534G00-4, customers has also bought
This product list is automatically generated following the purchases from others customers.
Informations ScanSpeak 22W/4534G00-4
High Output 92,5dB @ 2,83V
Coated NRSC Fibre Glass Cone
Low Damping SBR Rubber Surround
Low Resonance Freq. 30Hz
Magnet System w. Alu Ring
Die cast Alu Chassis vented below spider

The Discovery series offer traditional design, superior sound, a solid construction, and a wide range of variants. Combining these elements - plus a wealth of technical features and finesses - it gives our customers the possibility of acquiring a tailor-made Scan-Speak solution with very good performance at a reasonable low price point!

T-S Parameters
Resonance frequency [fs] 30 Hz
Mechanical Q factor [Qms] 3.70
Electrical Q factor [Qes] 0.37
Total Q factor [Qts] 0.34
Force factor [Bl] 6 Tm
Mechanical resistance [Rms] 1.19 kg/s
Moving mass [Mms] 23.7 g
Suspension compliance [Cms] 1.23 mm/N
Effective diaph. diameter [D] 173 mm
Effective piston area [Sd] 235 cm²
Equivalent volume [Vas] 95.0 l
Sensitivity (2.83V/1m) 92.4 dB
Ratio Bl/?Re 3.46 N/?W
Ratio fs/Qts 88 Hz

Electrical Data
Nominal impedance [Zn] 4 ?
Minimum impedance [Zmin] 3.7 ?
Maximum impedance [Zo] 33.0 ?
DC resistance [Re] 3 ?
Voice coil inductance [Le] 0.33 mH

Power Handling
100h RMS noise test (IEC 17.1) 70 W
Long-term max power (IEC 17.3) 120 W

Voice Coil and Magnet Data
Voice coil diameter 38 mm
Voice coil height 17.3 mm
Voice coil layers 2
Height of gap 6 mm
Linear excursion ± 5.7 mm
Max mech. excursion ± 12 mm
Unit weight 2.1 kg

Electrical data:
Resistance [Re'] 3.67 ?
Free inductance [Leb] 0.0886 mH
Bound inductance [Le] 0.652 mH
Semi-inductance [Ke] 0.0174 SH
Shunt resistance [Rss] 2289 ?

Mechanical Data
Force Factor [Bl] 4.98 Tm
Moving mass [Mms] 18.4 g
Compliance [Cms] 0.966 mm/N
Mechanical resistance [Rms] 0.062 kg/s
Admittance [Ams] 0.116 mm/N

Manufacturer
ScanSpeak
Name
Speaker ScanSpeak 22W/4534G00, 4 ohm, 8.5 inch
SKU
22W/4534G00-4
Seller

TLHP




Price

€

74.71

62.26
Availability In stock
Buy Speaker ScanSpeak 22W/4534G00, 4 ohm, 8.5 inch
Product type
Cone driver
Datasheet
Internal link ScanSpeak 22W/4534G00
Transport weight
2.1 kg
Transport volume weight
1.16 kg

All or a part of the characteristics displayed on this page are provided by the manufacturer, it is possible that some pieces of information are unavailable or wrong. In addition, the manufacturer may need to change the product specifications without notice at any time in order to improve the product, or to adapt his offer to the manufacturing and supply constraints.. We suggest you to contact us if you need further information, if you observe a mistake or if you wish to have confirmation about information.
Supply ScanSpeak 22W/4534G00-4
This product is in stock, it can be delivered quickly.If you need to place an order with more quantity than the quantity in stock, we inform you about the supply.
Indicative average supply lead time:
17 days
More information about supply.
Measures/Schemes ScanSpeak 22W/4534G00-4
SPL & Impedance vs Frequency Measurement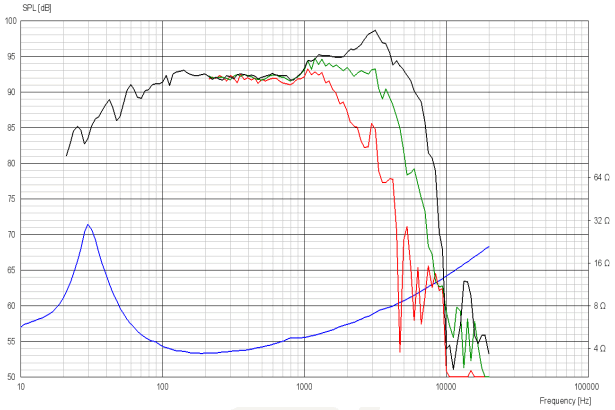 Dimensions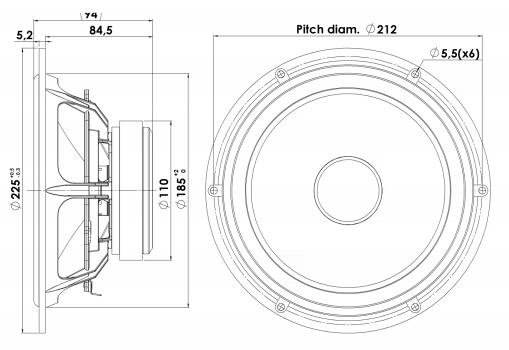 Garantie
This product is under manufacturer's warranty. This warranty protect you for the manufacturing defaults. The warranty does not protect for abnormal use of the product.