Dedicated to audio excellence.

Understanding the Kartesian range

The development of each .Kartesian loudspeaker is leading by customers needs, or use cases. R&D step ensures that the loudspeaker provide better performances on its market before release. To reach it, Kartesian is always innovating and use the most advanced engineering tools. Only the best technical solution is selected; choice is based on measurements results and concrete testing sessions.

Accordingly, .Kartesian never built same loudspeaker in many embodiments, with cone material variation (Carbon, paper, Aluminum, ...) or voice coils impedances (4 ohm, 8 ohm, 16 ohm). This unconventional way of thinking sum-up the Kartesian brand spirit : Make audio world progress, beyond conveniences.
Types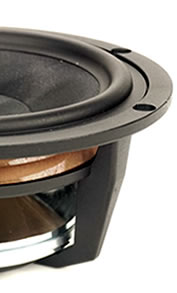 Kartesian is a French loudspeaker manufacturer based in the Strasbourg suburb of Ostwald. For many years .Kartesian has been designing, prototyping and manufacturing custom loudspeakers for major high-end loudspeaker brands.
Everything is done in France: engineering, prototyping, production.
.Kartesian notice