Speaker 18 Sound 12ND710, 8 ohm, 12 inch
Brand

Eighteen Sound

Model

12ND710

SKU

12ND710-8

Product type

Cone driver
Brand


Eighteen Sound

Model


12ND710

TLHP code


12ND710-8

Product type

Cone driver
The 12ND710 has been specifically designed for use either as a midbass driver in compact 2-way reflex enclosures or as a direct radiating or horn loaded, dedicated midrange driver, in multi-way touring and fixed installation concert and arena systems.

The neodymium magnet assembly assures high flux concentration, low power compression and excellent heat exchange because the external magnet configuration is considerably more efficient than traditional under-pole magnet topology.
Consequently, high levels of force factor and power handling with an optimum power to weight ratio have been achieved. Direct coupling of the special design basket and magnetic assembly with the large heat sink facilitates thermal flux through the ambient air, increasing the power handling capabilities and lowering the power compression.
The curvilinear paper cone has been created with a special high strength wood pulp designed to achieve the best possible linearity within its intended frequency range and to control bell-mode resonances around the cone circumference. The cone is carried by a multiroll suspension formed from a linen-like material which is more resistant to aging and fatigue than traditional materials.
The already low distortion and sound quality are further improved by the use of Double Demodulating Rings technology (DDR) designed to dramatically reduce the intermodulation and harmonic distortion and improve the transient response.
The 12ND710 implements Interleaved Sandwich Voice coil technology (ISV), in which an aluminum coil is wound inside and outside a high strength fiberglas former, providing a better thermal and mechanical performance than conventional coils.
A proprietary humidity-block cone treatment makes the transducer suitable for outdoor use in adverse weather conditions.
In addition, a special coating applied to both the top and back plates makes the 12ND710 far more resistant to the corrosive effects of salts and oxidization.

101 dB SPL 1W / 1m average sensitivity
75 mm (3 in) Interleaved Sandwich Voice coil (ISV)
450 W AES power handling
Neodymium magnet assembly
Double Demodulating Rings (DDR) for lower distortion and reduced inductance
Humidity resistant cone
Suitable for midbass frequency reproduction

Cone driver

Eighteen Sound

8 ohm

5.1

kg
Use Eighteen Sound 12ND710-8
This product list is manually managed by the TLHP team based on its experience and product knowledge.
With Eighteen Sound 12ND710-8, customers has also bought
This product list is automatically generated following the purchases from others customers.
Informations Eighteen Sound 12ND710-8
The 12ND710 has been specifically designed for use either as a midbass driver in compact 2-way reflex enclosures or as a direct radiating or horn loaded, dedicated midrange driver, in multi-way touring and fixed installation concert and arena systems.

The neodymium magnet assembly assures high flux concentration, low power compression and excellent heat exchange because the external magnet configuration is considerably more efficient than traditional under-pole magnet topology.
Consequently, high levels of force factor and power handling with an optimum power to weight ratio have been achieved. Direct coupling of the special design basket and magnetic assembly with the large heat sink facilitates thermal flux through the ambient air, increasing the power handling capabilities and lowering the power compression.
The curvilinear paper cone has been created with a special high strength wood pulp designed to achieve the best possible linearity within its intended frequency range and to control bell-mode resonances around the cone circumference. The cone is carried by a multiroll suspension formed from a linen-like material which is more resistant to aging and fatigue than traditional materials.
The already low distortion and sound quality are further improved by the use of Double Demodulating Rings technology (DDR) designed to dramatically reduce the intermodulation and harmonic distortion and improve the transient response.
The 12ND710 implements Interleaved Sandwich Voice coil technology (ISV), in which an aluminum coil is wound inside and outside a high strength fiberglas former, providing a better thermal and mechanical performance than conventional coils.
A proprietary humidity-block cone treatment makes the transducer suitable for outdoor use in adverse weather conditions.
In addition, a special coating applied to both the top and back plates makes the 12ND710 far more resistant to the corrosive effects of salts and oxidization.

101 dB SPL 1W / 1m average sensitivity
75 mm (3 in) Interleaved Sandwich Voice coil (ISV)
450 W AES power handling
Neodymium magnet assembly
Double Demodulating Rings (DDR) for lower distortion and reduced inductance
Humidity resistant cone
Suitable for midbass frequency reproduction

Product type
Cone driver
Link manufacturer website
Eighteen Sound
Datasheet
Internal link Eighteen Sound
Transport weight
5.1 kg
Transport volume weight
4.55 kg

All or a part of the characteristics displayed on this page are provided by the manufacturer, it is possible that some pieces of information are unavailable or wrong. In addition, the manufacturer may need to change the product specifications without notice at any time in order to improve the product, or to adapt his offer to the manufacturing and supply constraints.. We suggest you to contact us if you need further information, if you observe a mistake or if you wish to have confirmation about information.
Measures/Schemes Eighteen Sound 12ND710-8
SPL vs Frequency Measurement *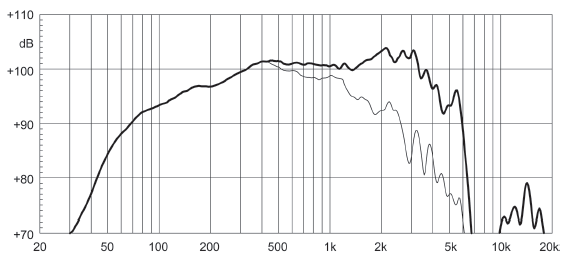 * Frequency response curve of 12ND710 on 50 lt enclosure tuned at 60hz. The enclosure closes the rear of the driver. The thin line represents 45 deg. off axis frequency response.
SPL vs Impedance Measurement *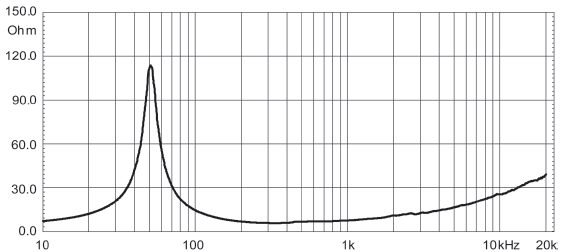 * Free air impedance magnitude curve.
Dimensions