Coaxial speaker Oberton 12H4CX72, 8+16 ohm, 12 inch
Brand

Oberton

Model

12H4CX72

SKU

12H4CX72-8+16

Product type

Coaxial driver (bi-entry)

Sales packaging

Sold by Piece
Brand


Oberton

Model


12H4CX72

TLHP code


12H4CX72-8+16

Product type

Coaxial driver (bi-entry)

Sales packaging

Sold by Piece
98 db SPL 1W / 1m ( LF ) average sensitivity
100 mm (4") high temperature voice coil ( LF )
800 W AES program power ( LF )
Aluminium demodulating ring
Silicon spider
Copper plated pole piece and top plate (LF)
Water protected cone - front
1.4" exit HF neodymium compression driver
72 mm (2.85") HF high temperature voice coil
60 degrees conical integrated horn

Application: High Quality stage monitors and compact bass reflex boxes.

Description: The 12H4CX72 is a 12" / 1.4" coaxial transducer designed for use in compact reflex enclosures and stage monitors with a nominal dispersion 60 degrees conical.
The low profile, smooth curvilinear LF cone provides smooth response within its intended frequency range and water prove protective coating, allowing application in a wide range of environments. The state-of-the-art extreme light 100 mm (4 in) LF voice coil ensure low Mms which gives perfect voice reproduction.
The aluminium demodulating ring in the magnet structure reduces distortion and inductance and together with copper plated pole piece and top plate improve transient response.
The neodymium 1.4" exit compression driver adopted is our ND72HB model.
The HF driver diaphragm assembly, using hybrid dome this together with phasing plug improve linearity of frequency response in high end. The double magnetic structure allow to get maximum performance.
The HF part of magnet structure has cooper ring on the pole piece, which reduces the inductance figure of frequencies above 10 kHz, improving phase and impedance linearisation. This ensures extremely high SPL in the high end of the frequency response.

Fullrange - Coaxial driver (bi-entry)
12 inch / 30.5 cm
Neodymium
Cylindrical
315

mm

280

mm

242

mm

16.5

mm

177.1

mm

8+16 ohm

Oberton

Coaxial driver (bi-entry)

8+16 ohm

4"

98

dB

400

W

100

W

800

W

200

W

50

Hz

6.5

ohm

7.3

ohm

0.25

10

0.26
... Display more
Use Oberton 12H4CX72-8+16
This product list is manually managed by the TLHP team based on its experience and product knowledge.
Informations Oberton 12H4CX72-8+16
98 db SPL 1W / 1m ( LF ) average sensitivity
100 mm (4") high temperature voice coil ( LF )
800 W AES program power ( LF )
Aluminium demodulating ring
Silicon spider
Copper plated pole piece and top plate (LF)
Water protected cone - front
1.4" exit HF neodymium compression driver
72 mm (2.85") HF high temperature voice coil
60 degrees conical integrated horn

Application: High Quality stage monitors and compact bass reflex boxes.

Description: The 12H4CX72 is a 12" / 1.4" coaxial transducer designed for use in compact reflex enclosures and stage monitors with a nominal dispersion 60 degrees conical.
The low profile, smooth curvilinear LF cone provides smooth response within its intended frequency range and water prove protective coating, allowing application in a wide range of environments. The state-of-the-art extreme light 100 mm (4 in) LF voice coil ensure low Mms which gives perfect voice reproduction.
The aluminium demodulating ring in the magnet structure reduces distortion and inductance and together with copper plated pole piece and top plate improve transient response.
The neodymium 1.4" exit compression driver adopted is our ND72HB model.
The HF driver diaphragm assembly, using hybrid dome this together with phasing plug improve linearity of frequency response in high end. The double magnetic structure allow to get maximum performance.
The HF part of magnet structure has cooper ring on the pole piece, which reduces the inductance figure of frequencies above 10 kHz, improving phase and impedance linearisation. This ensures extremely high SPL in the high end of the frequency response.

Manufacturer
Oberton
Name
Coaxial speaker Oberton 12H4CX72, 8+16 ohm, 12 inch
SKU
12H4CX72-8+16
Seller

TLHP




Price

€

560.00

466.67 Out of stock
Buy Coaxial speaker Oberton 12H4CX72, 8+16 ohm, 12 inch
Product type
Coaxial driver (bi-entry)
Datasheet
Internal link Oberton 12H4CX72
Transport weight
11 kg
Transport volume weight
8.09 kg

All or a part of the characteristics displayed on this page are provided by the manufacturer, it is possible that some pieces of information are unavailable or wrong. In addition, the manufacturer may need to change the product specifications without notice at any time in order to improve the product, or to adapt his offer to the manufacturing and supply constraints.. We suggest you to contact us if you need further information, if you observe a mistake or if you wish to have confirmation about information.
Supply Oberton 12H4CX72-8+16
Measures/Schemes Oberton 12H4CX72-8+16
SPL & Impedance vs Frequency Measurement

Dimensions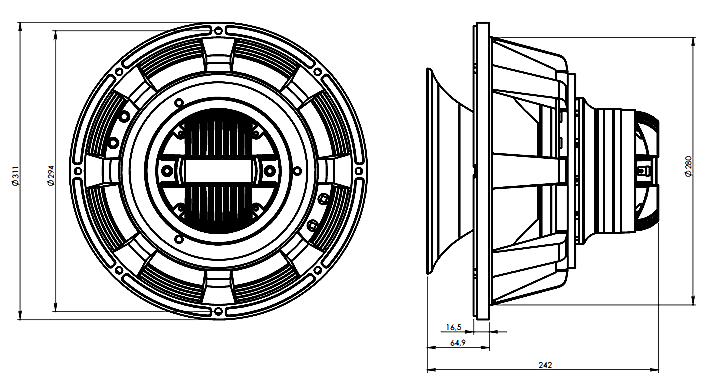 Garantie
This product is under manufacturer's warranty. This warranty protect you for the manufacturing defaults. The warranty does not protect for abnormal use of the product.