High efficiency compression tweeter Fostex T500AMKIII, 8 ohm, with base
T500A MKIII has been reborn as a highest grade horn super tweeter, by adopting a newly developed ring-shaped pure magnesium diaphragm, precision cut solid brass horn and equalizer and a low distortion design Alnico internal magnetic circuit.
Adding the T500A MkIII extending the super-high frequency over 20kHz, your speaker system will improve the sound quality and play music with improved expressiveness from high to low frequency ranges.

Impedance: 8 ohm
Frequency Response: 7kHz – 40kHz (-10dB)
S.P.L.: 104dB/w(1m)
Input: 15W (Nom.)
Cut Off Frequency: 3.5kHz
Recommended Cross-Over Frequency: More than 7kHz (-12dB/oct.)
Net Weight: 5,150kg
Accessories: Tweeter Base

- Ring-shaped pure magnesium diaphragm
The newly developed ring-shaped pure magnesium diaphragm has low squeal peculiar to metal, and realizes penetrating ultra-high frequency reproduction by adjusting the material thickness to optimize the surface treatment.

- Brass horn and equalizer with platinum coating
Precision cut cylindrical shape solid brass horn and equalizer are fitted.
Platinum coated surface offers a natural and high transparent sound.

- Alnico internal magnetic circuit
Installed 2 layers Alnico magnets obtain a strong magnetic flux density, and the copper plated poll piece reduces the current distortion realizing a high definition audio reproduction.

- Gold plated copper speaker terminals and copper silver alloy internal wiring
Input terminals use gold plated copper. An extra-thick φ1.4mm copper silver alloy single wire is used for internal wiring to reduces sound deteriorations.

- Tungsten diaphragm ring
Diaphragm ring to support the diaphragm is made of tungsten sheet that has high damping effect to reduce un-wanted vibrations and sound deteriorations.

- Tweeter base with walnut veneer finish
A tweeter base comes as a standard accessory, which firmly supports the heavy tweeter.
The base is finished in dark brown with beautiful and calm walnut veneer.

High - Compression tweeter
4 inch / 10 cm
Alnico
Cylindrical
99

mm

139.4

mm

8 ohm

Fostex

Compression tweeter

8 ohm

104

dB

15

W

7000-40000

Hz

7000

Hz

Magnesium
Tungsten
6.2

kg
Fostex T500AMKIII-8, Range, version, replacement...
This product list is manually managed by the TLHP team based on its experience and product knowledge.
Use Fostex T500AMKIII-8
This product list is manually managed by the TLHP team based on its experience and product knowledge.
Informations Fostex T500AMKIII-8
T500A MKIII has been reborn as a highest grade horn super tweeter, by adopting a newly developed ring-shaped pure magnesium diaphragm, precision cut solid brass horn and equalizer and a low distortion design Alnico internal magnetic circuit.
Adding the T500A MkIII extending the super-high frequency over 20kHz, your speaker system will improve the sound quality and play music with improved expressiveness from high to low frequency ranges.

Impedance: 8 ohm
Frequency Response: 7kHz – 40kHz (-10dB)
S.P.L.: 104dB/w(1m)
Input: 15W (Nom.)
Cut Off Frequency: 3.5kHz
Recommended Cross-Over Frequency: More than 7kHz (-12dB/oct.)
Net Weight: 5,150kg
Accessories: Tweeter Base

- Ring-shaped pure magnesium diaphragm
The newly developed ring-shaped pure magnesium diaphragm has low squeal peculiar to metal, and realizes penetrating ultra-high frequency reproduction by adjusting the material thickness to optimize the surface treatment.

- Brass horn and equalizer with platinum coating
Precision cut cylindrical shape solid brass horn and equalizer are fitted.
Platinum coated surface offers a natural and high transparent sound.

- Alnico internal magnetic circuit
Installed 2 layers Alnico magnets obtain a strong magnetic flux density, and the copper plated poll piece reduces the current distortion realizing a high definition audio reproduction.

- Gold plated copper speaker terminals and copper silver alloy internal wiring
Input terminals use gold plated copper. An extra-thick φ1.4mm copper silver alloy single wire is used for internal wiring to reduces sound deteriorations.

- Tungsten diaphragm ring
Diaphragm ring to support the diaphragm is made of tungsten sheet that has high damping effect to reduce un-wanted vibrations and sound deteriorations.

- Tweeter base with walnut veneer finish
A tweeter base comes as a standard accessory, which firmly supports the heavy tweeter.
The base is finished in dark brown with beautiful and calm walnut veneer.

Product type
Compression tweeter
Link manufacturer website
Fostex
Transport weight
6.2 kg
Transport volume weight
3072.84 kg

All or a part of the characteristics displayed on this page are provided by the manufacturer, it is possible that some pieces of information are unavailable or wrong. In addition, the manufacturer may need to change the product specifications without notice at any time in order to improve the product, or to adapt his offer to the manufacturing and supply constraints.. We suggest you to contact us if you need further information, if you observe a mistake or if you wish to have confirmation about information.
Measures/Schemes Fostex T500AMKIII-8
SPL & Impedance vs Frequency Measurement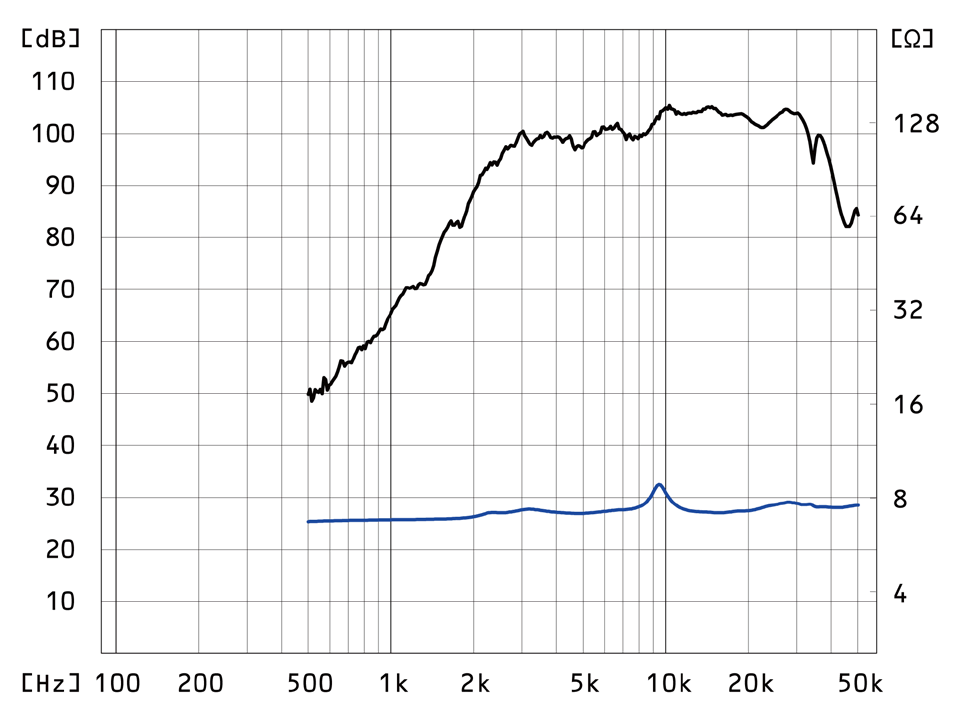 Dimensions